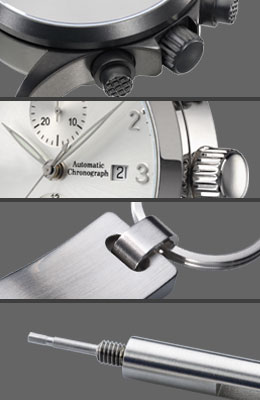 Watch components
We develop the entire spectrum of parts for mechanical and quartz watches. Drawing
on innovative metalworking and surface engineering technologies, we ensure that our individual components can be incorporated smoothly into your existing assembly units.
Complete watches
A watch is more than just the sum of its individual parts. We design and build sophisticated complete systems following your precise specifications or our own design proposals based on your specific requirements.
Corporate accessories
Individual high-quality accessories play an increasingly important part in the presentation
of brand portfolios. Whatever your needs, we can organise production to match your specifications exactly and help to strengthen customer identification with your brand.
Tools & more
How about an individual screwdriver bearing your logo for use by watchmakers?
Or perhaps an enlarged replica of a watch crown as a paperweight?
Our design team is equal to the challenge!